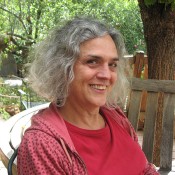 Robyn Chauvin, M.A., L.P.C.
1150 Lehigh St.
Boulder, CO 80305
phone: 720 841 1836
website:
www.robynchauvin.com
This therapist has a video.
Send Email To This Therapist
Robyn Chauvin, LPC, is a member of the teaching faculty at the Boulder Psychotherapy Institute and adjunct faculty in the Graduate School of Psychology at Naropa University. A Licensed Professional Counselor, Robyn has 21 years experience in hospice, inpatient psychiatric work, and private practice psychotherapy working with individuals, couples, and groups. Robyn's approach and methodologies include Applied Existential Psychotherapy (AEP), Gestalt, Psychodrama, and The Bonny Method of Guided Imagery and Music. Of particular interest is working towards wholeness with persons facing internalized oppression or complicated trauma.
See Full Profile
See All Therapists
Advanced Search
Find Groups
BPI Student Information
An Overview of BPI Training, Practice and Process Group Schedule for 2011-12

BPI Students: Check "BPI Schedule of Trainings and Groups for 2011-12" for all Training and Supervision, Practice and Process groups. Check "New BPI Groups and Trainings Starting Fall 2011" for new groups and trainings starting next fall. Please remember to park either directly in front of the house or across the street by the park (to keep the neighbors happy).