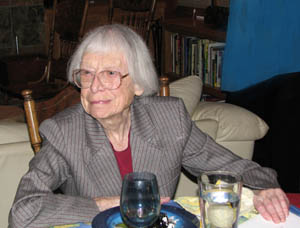 Hazel E. Barnes 1915-2008
Hazel E. Barnes, Ph.D., was America's foremost Sartre scholar. As Hazel's literary executor, student and friend, Betty Cannon, Boulder Psychotherapy Institute President, is happy to answer questions from Hazel's many friends and admirers throughout the world. Betty's own book, Sartre and Psychoanalysis, is dedicated to Hazel.
Hazel translated Sartre's Being and Nothingness and Search for a Method. She is the person largely responsible for bringing existentialism to the English speaking world. She was Distinguished Professor of Philosophy Emerita of the University of Colorado and the recipient of many awards for teaching and scholarship. She mentored and influenced many of America's Sartre scholars. The prestigious Hazel Barnes Award is presented each year by CU to a talented faculty member for excellence in teaching and scholarship.
Hazel's contributions to Existential Psychology are enormous. They begin with her brilliant introduction to Existential Psychoanalysis published in 1953. It contains relevant selections from her translation of Being and Nothingness. This was followed by the full translation of her book with another excellent introduction in 1956.
Hazel's own books, Humanistic Existentialism, Sartre, An Existentialist Ethics, Sartre and Flaubert, and The Story I Tell Myself, contain many insightful discussions of the significance of existential themes for psychology. Sartre himself loaned her the notes for the fourth volume of his monumental biography of Flaubert, which he was unable to finish because of blindness. Hazel reconstructed what Sartre might have written as well as discussing with precision and brilliance the four volumes that represent Sartre's final contribution to existential psychoanalysis.

Hazel produced a series of ten programs for National Public Television that were broadcast in 1962. Entitled "Self Encounter: A Study in Existentialism," they contain much material that is relevant to psychologists. Long thought to have been lost, they have been recently located in the Library of Congress by Jeffrey Ward Larsen and Erik Sween. Copies are currently available in the University of Colorado archives.
For a discussion of some of Hazel's essays relevant to existential psychology, see Betty Cannon's memorial essays in Existential Analysis and Sartre Studies International. Or read Betty's discussion of Hazel's autobiography, The Story I Tell Myself, as an monument of existential self-analysis in Existential Analysis.
Betty Cannon and Jeffrey Ward Larsen are currently editing a collection of Hazel's essays for a major university press.
Hazel was born in Wilkes-Barre, Pennsylvania, on December 16, 1915, and died at her home in Boulder on March 18, 2008, surrounded by many friends.