Boulder Psychotherapy Institute
Advanced Training in Applied Existential Psychotherapy (AEP)
An Experiential Psychodynamic Gestalt Approach • Boulder, Colorado
Take a Chance on Chance !!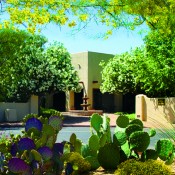 FEATURED THERAPIST
Sierra TucsonŽ
Lisa Jane Vargas
39580 S. Lago del Oro Parkway
Tucson, Arizona 85739
phone: 888-935-4488
website:
www.SierraTucson.com
This therapist has a video.
Send Email To This Therapist
See Another Featured Therapist
Sierra TucsonŽ is more than a drug treatment center, as it is dually licensed to facilitate healing for psychiatric issues as well as many types of addiction and chronic pain. A comprehensive Family Program is included for all patients and their invited family members.The acclaimed Sierra Tucson treatment philosophy, expressed as the Sierra ModelŽ, recognizes that we all exist as mind, body, spirit, and emotions. The combination of both traditional and innovative therapies engages patients experientially. Only after healing progresses beyond the symptomatic to embrace the whole person does real recovery begin. Sierra Tucson has received dual Accreditation by The Joint Commission, plus Pain Program Accreditation by the American Academy of Pain Management. Specialized programs are offered for Chemical Dependency, Eating Disorders, Mood and Anxiety Disorders, Sexual Compulsivity, Trauma, Chronic Pain, and Complex Assessment and Diagnosis. Our Progressions Program is available for advanced recovery skills.
See Full Profile
See All Therapists
Advanced Search
Find Groups
Browse Therapists (see all)
Search for Therapists
Jodi Alieksaites, M.A., L.P.C.
Singing Stone Counseling at the Crossroads
6640 Gunpark Drive
Boulder, CO 80301
phone: 3034999893
My skill is in my contemplative approach, an ability to attune quickly to my clients & facilitate an environment for you to increase emotional intelligence & personal embodiment. I work primarily with clients who like to dive deep & are committed to the process of personal growth.
Areas of Specialty:
Body Centered Psychotherapy ​ Life Transitions ​Grief & Loss ​Whole Self Integration ​ Identifying Unhealthy Patterns ​Developing Self Attunement
Veronique Mead, M.D., M.A.
Boulder, CO 80301
phone: 303 527 0551
Specializing in Health Symptoms, including Chronic Illness, through body-based therapies, which address long-term effects of trauma and stress. Facilitating congruence between passion and livelihood, balance in personal and work life, to support optimal functioning.
Charley Rosicky
TRU Community Care Hospice
2593 Park Lane
Lafayette, CO 80026
phone: 720-725-6777
Grief Counselor using Mindfulness, Acceptance and Commitment Therapy, Solution Focused Brief Therapy and Brain Spotting to integrate bereavement experiences for adults and teens.
Lauren Stokes, M.A., L.P.C.C
Create Connectivity Counseling PLLC
1045 Acoma St. Suite 3
Denver, CO 80204
phone: 720-463-2604
Do you sometimes find that life feels uncertain, hopeless, or overwhelming? Do you hurt in subtle ways that you can't quite put your finger on? Are you worried about your child and aren't sure where to turn next? Perhaps you want stronger connections and greater stability in your relationships. Exploring individual, couple, child, or group counseling as a way to find healing and wellness a courageous step you toward beginning your journey to create the life and relationships you want for yourself and your loved ones. Whether you're seeking individual, couple, or child counseling, I'll support you in making sense of sorrow or struggles and creating more moments of connection, purpose, and joy. We'll create a space where you feel respected, accepted, and understood, exploring and nurturing your inner wisdom.
See More Therapists
Search for Therapists
© The Boulder Psychotherapy Institute. All rights reserved. site/bluetrope.