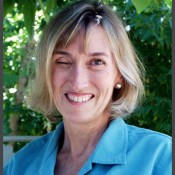 Deborah Bowman, Ph.D.
Boulder Psychotherapy Institute
2830 Darley Ave.
Boulder, CO 80305
phone: 303 440 0808
website:
www.thefemalebuddha.com
This therapist has a video.
Send Email To This Therapist
Deborah Bowman, Ph.D., is a licensed clinical psychologist and certified Gestalt therapist with over 25 years experience. She integrates Gestalt, Jungian, creative and contemplative approaches to therapy and works with adults and couples. She has extensive experience working with grief, anxiety and depression. Deborah is an author and artist and enjoys coaching the creative process for artists in psychotherapy as well. She is a Professor of Transpersonal Counseling Psychology at Naropa University and a senior teaching faculty with the Boulder Psychotherapy Institute.
See Full Profile
See All Therapists
Advanced Search
Find Groups
BPI Student Information
An Overview of BPI Training, Practice and Process Groups Schedule for 2012
BPI Students: Check "BPI Schedule of Trainings and Groups for 2011-12" for all Training and Supervision, Practice and Process groups. Check "New BPI Groups and Trainings Starting Fall 2011" for new groups and trainings starting next fall. Please remember to park either directly in front of the house or across the street by the park (to keep the neighbors happy).
DREAM PROCESS/PRACTICE GROUP
This Process and Practice Group is limited to six individuals and provides psychotherapy practitioners with hands-on experience working with their own dreams and facilitating others. I demonstrate dream work and review the process step-by-step as well as coach participants in facilitation with one another. Dream facilitation is discussed alongside the personal and transpersonal issues that arise. Jungian approaches, the creative arts, and body-centered modalities are integrated with Gestalt practice. Prior experience with Gestalt, Jungian and/or expressive arts modalities is suggested. Please call Deborah at 303 440-0808 for further information. Deepen psychotherapeutic and personal dream work Integrate profound and effective approaches Develop greater skill in Gestalt dream dialogue Learn Jungian approaches and active imagination Practice expressive and creative arts modalities Work with the body in dreams Understand transpersonal and prophetic dreams Enhance access to dreams and dream recall Work with trauma uncovered in dreams Explore individual & group enactment of dreams Learn by doing! Dates: Ongoing, meeting the second Tuesday of each month, beginning November, 2009 Time: 5:30 – 8:45 p.m. Location: 2830 Darley Avenue, Boulder, CO 80305 Cost: $75 per session Deposit & Registration Fee: $75 (refundable up to 2 weeks before the group begins)